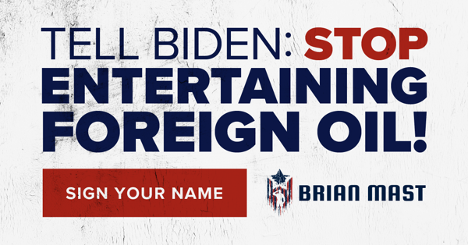 Joe Biden's energy policy is a slap in the face for working Americans…
We're paying the consequences for his decision NOT to push for energy independence – RECORD prices at the gas pump.
That's why we're asking for your help – will you join us in telling Biden to STOP entertaining foreign oil and instead focus on putting America First? →
Sign the petition below ASAP!
Leaders like Brian Mast can see that the longer we delay on this issue, the more YOU will be hurt at the pump, and the more cash dictators will have for their schemes.
So, please help us tell Biden to stop calling up the likes of Iran and Venezuela. Instead, focus on American energy sources!
Thank you for backing the cause,
Team Mast
Related Posts: